Over 4,000 new COVID-19 cases have been recorded in South Africa. That brings the total number of infections to 814,565.
139 more people have died from the virus, taking the death toll to 22,206
Recoveries are at over 744,000, meaning the country is now dealing with over 47,000 active cases. Nearly six-million tests have been conducted.
– Coronavirus Hotline Number: 0800 029 999 from 8 am to 4 pm, Monday to Friday.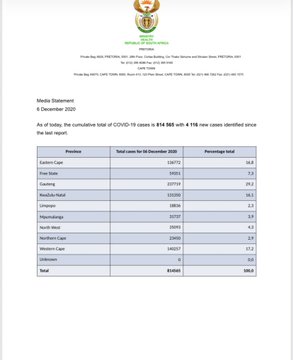 Help protect your loved ones by sharing this official South African government COVID-19 service with your family, friends and community.
Send HI to 0600 123 456 on WhatsApp.
The NICD has another Clinician Hotline to improve #COVID19 communication and support for healthcare providers. The Clinician Hotline is 0800 11 1131, operating 24 hrs. The Public Hotline is 0800 029 999 also operating 24hrs.